This tutorial explains how to optimize your site for the search engines:
indem Sie Schlüsselwörter (keywords), durch die Sie gefunden werden möchten, definieren

indem Sie den Inhalt Ihrer Website verbessern

indem Sie Nachrichten über Ihre Website auf anderen Websites posten

indem wir Ihnen erzählen was wir tun und was wir tun können, um Ihnen zu helfen
SEO (Search Engine Optimization) is the process of improving the volume and quality of traffic to a website from search engines via search results for targeted keywords. We explain in this tutorial what you need to do in order to improve your search engine rankings. 
Functioning of search engines
The goal of search engines is to offer a list of websites that fit in the most relevant way possible the question asked by the internet user.
Actually, the notion of relevance is not easy to define and search engines use a series of measures and parameters (like for instance the number of keywords, the number of links, the frequency of updates) that algorithms interpret to give this result.
To this end, your website is regularly visited by robots. Updating a website requires a period of time ranging from a few hours to several weeks, before it is taken into account in the search engine results.
Part of SEO consists of optimizing the parameters used by search engines in order to improve the relevance of a web page.
Search engines are constantly evolving to counter these techniques, if they prevent them from giving relevant answers to the internet-users' questions.
Therefore, to achieve a good organic SEO strategy, you must begin to answer in the best way possible to the internet-users' questions. For it is what will be enhanced in the long term, regardless of the evolution of search engines.

First step to improve your SEO: choose the important keywords
Die erste zu beantwortende Frage ist: "Was sind die Schlüsselwörter, bei denen Sie Ihre Website bei Google anzeigen lassen möchten?"
If you want to create a website about SEO, you probably want your website to appear for the search terms "Search engine optimization" or "Search engine first results". Nehmen Sie nicht zu viele Schlagwörter, maximal 6.
Now, what you need to do is to convince search engines that your website is the one which talks the best about these words.
If you need some help by choosing your keywords, you can read our guide: How to use keywords for Search Engine Optimization?
Verbessern Sie den Inhalt Ihrer Website
Title, description
The title, description and page url are generally displayed in the search engine results. They allow on one hand to improve your website ranking and on the other hand to incite people to visit your web page (the internet-users read the titles and descriptions in the serp (search engine results pages) and click on the most interesting/relevant links).
On the page My-websites, click on the button Settings, then, Search engines. Change the title to be short and to include your keywords.
Update the description: it must contain all the keywords you chose. Try to write attractively to make people click on your links.
Then, although it is not used anymore by search engines, modify the keyword list with your keywords.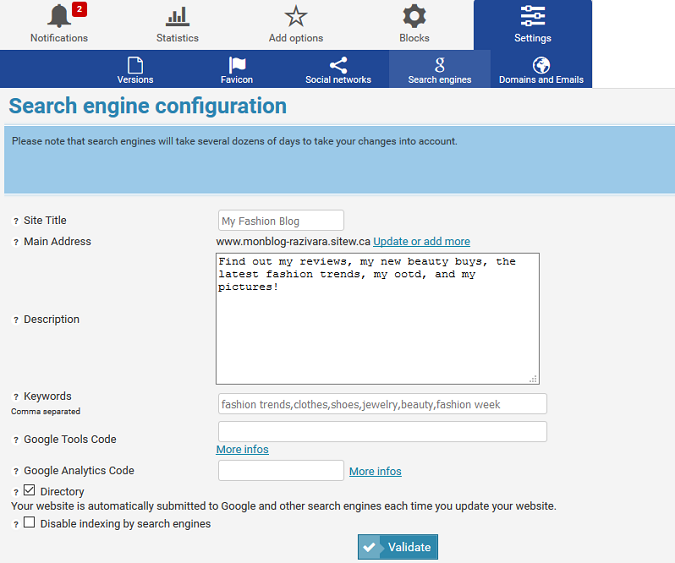 Of each page of your site: optimized page seo for Premium/Pro users


Page names and custom urls

It is really important to choose names which contain your keywords.
For example, update the page named 'welcome' to 'SEO principles' or a page named 'Tools' to 'SEO tools'.
Also remember that with SiteW, you can customize your page urls. In the website modification tool, select your page in the orange area on the left of your screen, click on ☰ then, on SEO in the bottom toolbar. You can then define your own url by filling in the appropriate field. It is an easy and effective way to add even more keywords to your website and to improve your SEO.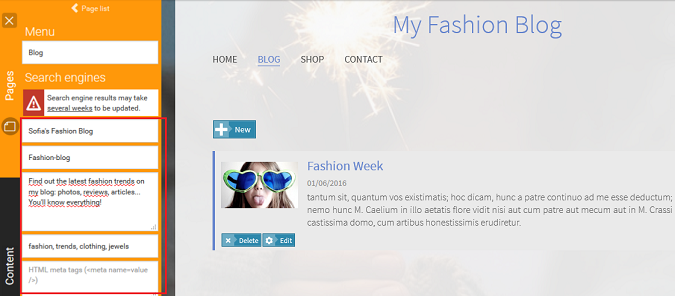 Book a domain name

Booking a domain name is an essential step for your SEO strategy, because it allows you to customize your website url and to show Google that you own a professional website, for you have to pay to book a domain. It is easy to register a domain with SiteW: you can do it for free with our Premium or Pro packages and for only 2.39€TTC/month for the Starter package.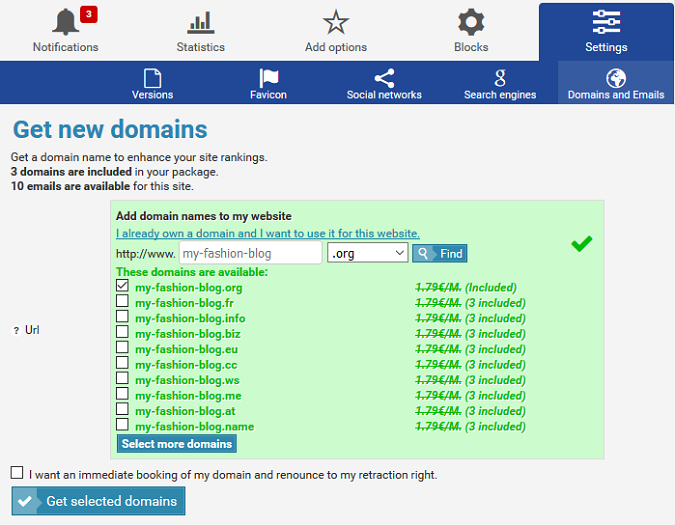 Page content and page SEO

You need to insert Text blocks in all your pages, containing your keywords as often as possible. Völlig leere Seiten oder Seiten, die nur Bilder oder Videos beinhalten, werden niedrig eingestuft. Deshalb empfehlen wir Ihnen, dass Sie Ihre bilder kommentieren, falls Ihre Seite keinen Text beinhaltet. Redewendungen sollten vollständig erscheinen, aber auch getrennt. For example, Website search engine optimization should appear, as well as sentences containing website, SEO and Search engines. It is useful to alternate between words of the vocabulary of website SEO.
You may think that the content is a bit repetitive (the word 'SEO' can be repeated every 100 words). aber Google kann so verstehen, worum es in Ihrer Website geht und demnach das Ranking Ihrer Schlagwörter erhöhen.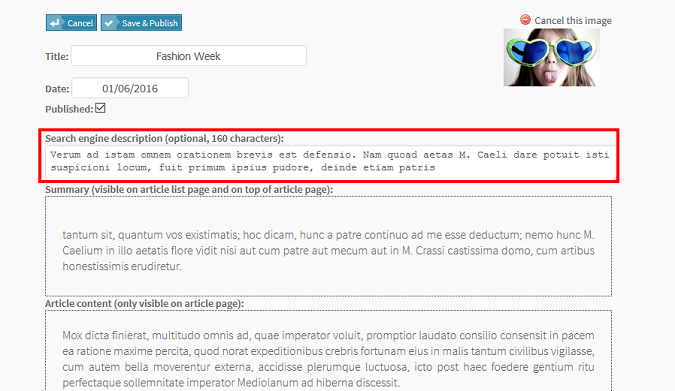 Sie sollten Ihre Seiten nicht überladen.
Teilen Sie große Seiten daher in mehrere kleinere auf. The more pages your site contains, the better search engines consider it, because it will be more likely to match different search terms. With SiteW Premium and Pro packages, you can create an unlimited number of pages.

Make your website known

Search engines attach a lot of importance to the number and to the quality of links pointing to your website (backlinks). It is very important to have as many backlinks as possible, and these links must contain your keywords and be found in quality websites.
For our SEO Website example, a link like 'Website about SEO' will be better than 'Visit this website' or a simple web address. Nevertheless remember not to use too many links, because it can be considered as unnatural by search engines.
Specialized websites
Der Inhalt ist sehr wichtig: die Seite, die Ihren Link beinhaltet, sollte auch möglichst viele Schlüsselwörter enthalten. Der Link wird attraktiver für Besucher der Website sein und Suchmaschinen werden erkennen, dass der Link eine bessere Qualität hat.
Ask other webmasters to exchange links with you. You can, for example, add a link on your website for a blog specialized in SEO and the other website will add a link to yours.
If your website is about tourism, make sure to subscribe to the Tourism Information Office's website of your city. Falls Sie die Website einer Stadt verwalten, fügen Sie einen Link auf ihrer Wikipedia Seite ein Falls Sie ein professioneller Anwender sind, überprüfen Sie, dass die Website Ihrer Stadt kein Verzeichnis, das alle örtlichen Unternehmen auflistet, hat...
Directories

Kleine Verzeichnisse senden normalerweise nicht viele Besucher und werden Ihnen nicht sehr dabei helfen Ihre SEO zu erhöhen. It is not really useful to subscribe to directories which ask for a backlink either.
However, we advise you to subscribe to big directories: DMOZ.org for example.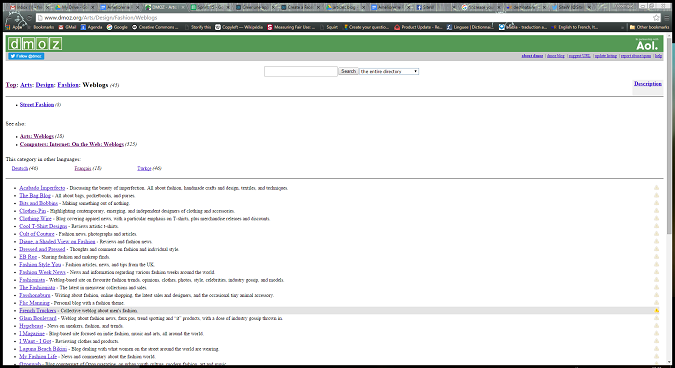 Blogs and forums
Suchen Sie auf Google nach Blogs und Pinnwänden, die sich auf ihrer Website mit Ihrem Thema befassen oder befassten und posten Sie dort einen Kommentar mit einem Link zu Ihrer Website. Generally, in order to avoid spamming, the links in blogs and forums are nofollow, that is to say that they are not taken into account by search engines. Nevertheless, these links allow you to get visitors.
For example, by typing 'SEO forum' or 'Blog about search engines', you will find websites on which it would be interesting to post a message with a link to your website.
Sie können auch spezialisierte Websites oder Blogs kontaktieren und sie bitten einen Artikel über Sie und Ihre Website zu schreiben
Was wir für Sie tun

Für die Homepages, die mit SiteW erstellt werden, stellen wir verschiedene Tools zur Verfügung, um Ihre Suchmaschinenoptimierung zu verbessern.
Optimieren Sie Ihre Homepage

Wenn Sie eine Website erstellen, fragen wir bei den bekanntesten Suchmaschinen an, sie zu besuchen.
All the SiteW websites have special hidden pages for search engines: robots.txt and sitemap.xml that list the pages of your website.
Optimization of the source code: tags (titles, subtitles) according to the content.
Loading speed of your website
Mobile friendly

Wenn Sie Ihre Website modifizieren, benachrichtigen wir die größten Suchmaschinen darüber, dass sich Ihre Website verändert hat und senden ihnen die neue Seite, um ihren Index updaten zu können
SiteW offers you the possibility to add descriptions especially meant for search engines, to customize meta-descriptions of your blog pages, the product descriptions and the product categories of your online store, in order to optimize the ranking of your blog articles and of your online shop.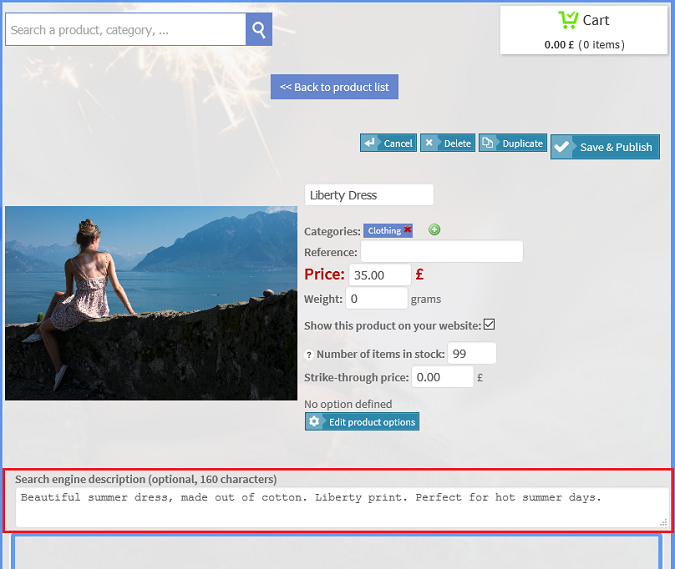 With SiteW, you can also add Alt-tags to your images, to improve their ranking on Google Images.
SiteW allows you to easily use Google Webmaster Tools. To create your account in only a few simple steps, you can read our guide Increase Google rankings with Google webmaster tools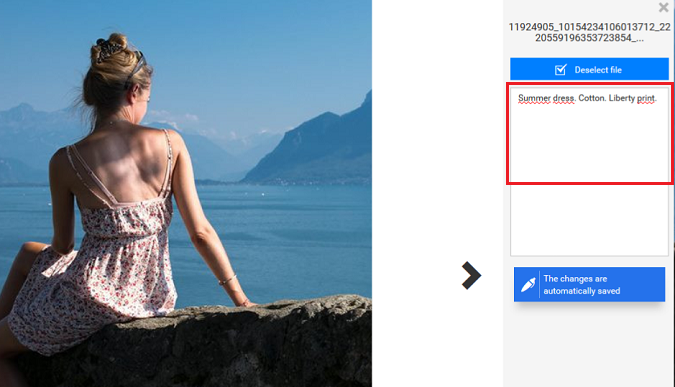 Folllow your statistics to increase your Google ranking

As far as your stats are concerned, SiteW allows you to directly access your website stats by going to the My websites page. You can also simply refer directly to Google Analytics statistics and use this data to improve your website SEO.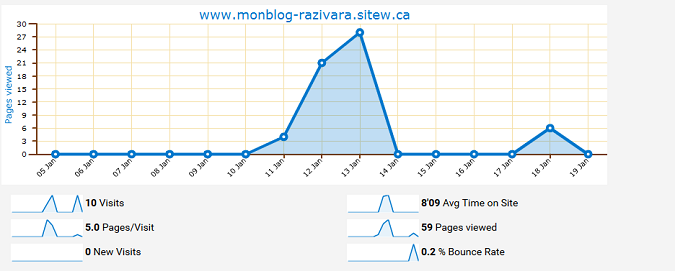 You now know all the solutions SiteW offers you, to
improve your Google ranking
. Zögern Sie nicht, unser
FAQ
zu lesen, wenn Sie genauere Fragen zu Suchmaschinenoptimierung haben.